Gazepoint Software Release V4.2.0 Now Available
The latest release of the Gazepoint software suite is now available to download. A few notable updates in the release:
Gazepoint Control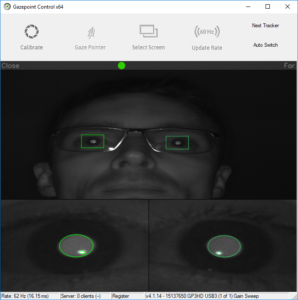 We have added a gain-sweep mode which when enabled, will sweep through the full range of the system gain settings until eyes are detected. In the image to the right you can see the bright pupils properly tracked. If the pupils were too bright the lower two eye images would be red (unidentified) and the upper face image would show bright white pupils. It has been reported that for some young subjects (under 6 years old) the pupils have such a strong bright pupil response the system cannot identify them properly to engage the automatic gain system, the pupils just look like glasses reflections.
At this time the gain sweep mode is optional and can be enabled by clicking on the Control window and press the 'P' key on the keyboard. In the lower right of the taskbar it will show the Gain Sweep mode is active. If this system proves to work well for this use case we will enable it by default in future releases.
Gazepoint Analysis
A number of small bug fixes were added, as well as an update to the way the Gazepoint Analysis display is rendered. This update reduces the CPU usage when not actively rendering or processing data in Analyze mode.