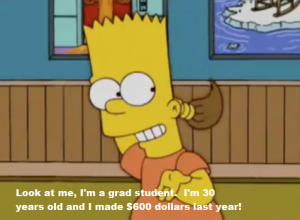 An article in Macleans came out recently titled "Are Ph.D.s an academic dead zone?. Having a PhD myself, I actually have to agree with most of the points in the article: academia doesn't have room for all the PhDs that come out of universities. What's more, the deep but narrow research performed during graduate school doesn't always always make for attractive candidates for corporate position.
That said, Gazepoint has 3 PhDs on staff. My PhD was in eye-tracking so definitely a good fit for this venture. All together, I've been developing eye-trackers for over 10 years now. However, Andras' PhD is in Chemistry and Julie's PhD is in Neuroscience, so on paper, the fit isn't as obvious.
However, there are some skills that are necessary to successfully reach the end of the long and tedious road that is a doctorate degree.
Ingenuity: a PhD thesis has to be novel;
Tenacity: setbacks are continuous (talk to Julie about this!);
Intelligence: just getting through the administrative hurdles takes a fair amount;
Hard-work: long hours and working all weekend are the norm;
Self-motivation: unless you can wrangle a few undergraduate minions, you're the lowest on the food chain, so no one will do the work for you;
Willing to work for low pay with only the promise of a bright future somewhere in the murky distance: that's pretty much self-explanatory.
As you can see, this set of skills right there sum up to some pretty fantastic startup team members.
And it even turns out that eye-tracking may be useful in predicting Alzheimer, one of Julie's neuroscience research topics. And when it comes to fastening any component with adhesives, Andras is the man.
That said, PhDs are not always necessary: our 4th team member, Johnny, has over 10 years experience in business development, growing his startup from the early stages to over $xxM. If you can get someone with experience like that you should really jump on it too!
It's quite the stellar team here at Gazepoint – don't hesitate to get in touch with any of us!
Cheers,
Craig